What
Animals are suffering. Wild animals are exploited for entertainment and profit. Pets and working animals in communities need protection. Farm animals need a better welfare.
Also, when natural disaster strikes they need help.
How
We employ over 380 people globally covering campaigns, media, fundraising, operations, finance, administration and human resources. Together we deliver our best to help people see how important animals are to all of us. We influence decision makers to put animals on the global agenda and inspire people to change animals' lives for the better. We end animal suffering by helping governments and communities to protect and care for their animals.
Why
We are passionate about animals and want to deliver a positive impact in a global organization with a welcoming environment.
We share the dream of a world with animals free from suffering.
Sustainable Workforce World Animal Protection, The Hague, Netherlands
Julia Bakker, Medewerker Bedrijfsvoering:
"Werken met collega's die mijn passie delen is fantastisch. Hoe we hier met elkaar omgaan is laagdrempelig en informeel. We vertrouwen elkaar, het is gezellig en we zijn flexibel naar elkaar toe. Ik heb het gevoel dat we met elkaar aan de organisatie bouwen. Ook ben ik heel tevreden met de secundaire arbeidsvoorwaarden. Daarnaast gaan we binnen de organisatie heel bewust om met duurzaamheid en natuurlijk dierenwelzijn. Zo zijn de lunches altijd vega(n)."
Radija Kartoikromo, Medewerker Bedrijfsvoering:
"Ik werk alweer zes jaar voor World Animal Protection. Sinds ik me kan herinneren ben ik gek op dieren en voel ik dat het niet klopt als je dieren in een kooi stopt. Ik werk op de administratie en vind het geweldig dat ik op die manier bijdraag aan de doelen van de organisatie. We hebben ieder jaar veel plannen die we graag willen waarmaken. Hierin maken we keuzes met elkaar, omdat niet álles uit te voeren is. Zo maken we strategische keuzes met het oog op de lange termijn.  Wat ik ook duurzaam vind is dat er een goede persoonlijke begeleiding is voor alle (nieuwe) medewerkers. Voor mij is belangrijk dat ik verantwoordelijkheid draag en zelfstandig mag werken. Ik word vertrouwd maar kan altijd assistentie vragen aan mijn collega's of leidinggevende."
Working for World Animal Protection
We move the world to protect animals globally but there are many other reasons to join our work. We are a truly global organisation with offices in Australia, Brazil, Canada, China, Costa Rica, Denmark, India, Kenya, the Netherlands, New Zealand, Sweden, Thailand, UK and USA. As well as competitive benefits we want our employees to grow with us and build their careers within World Animal Protection and therefore encourage internal applications. We have a strong track record of offering existing staff promotions as well as secondments and position changes within the organisation.
Who are we?
We are World Animal Protection.
For over 35 years we have moved the world to protect animals.
We protect animals because we believe a sustainable future for the planet can only be achieved if both animals and people are part of the solution.
We stop the exploitation of wild animals for entertainment and profit. We protect pets and working animals in communities across the globe. We campaign for better farm animal welfare and fight against factory farming. We also help animals when disaster strikes.
Our vision is a world where animals live free from suffering. We are working to help people to see how important animals are to all of us.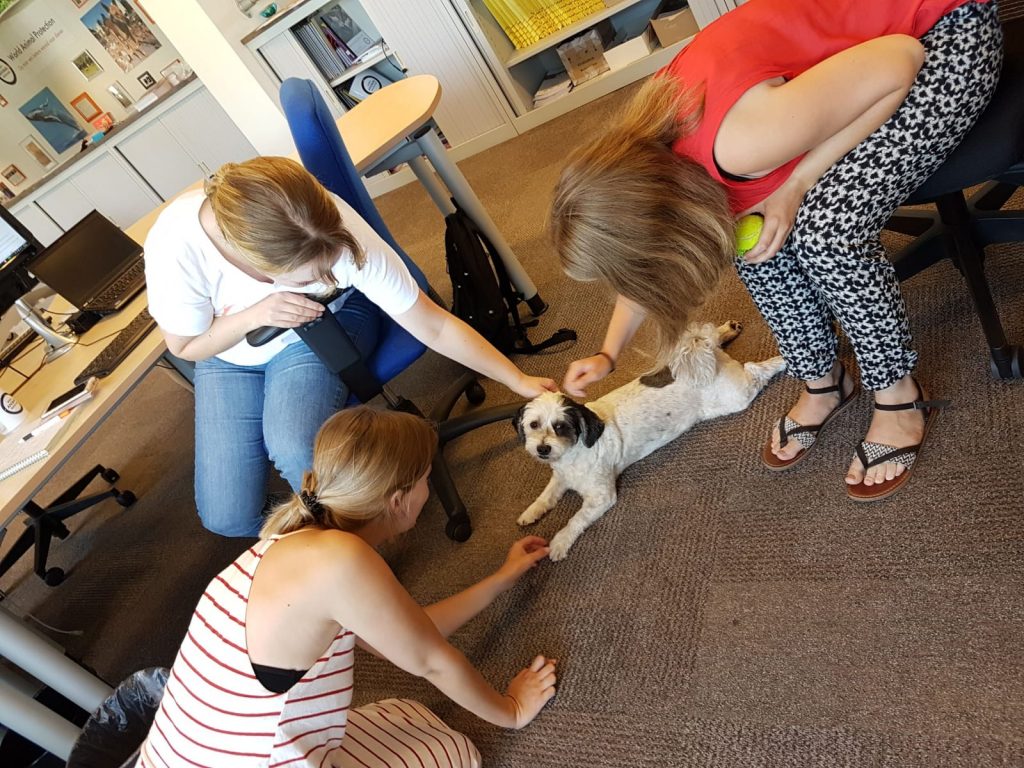 Practice what you preach!